This one was a struggle, a real struggle…I've had a bunch of high-priority things come across my desk at work, and have not had as much time to read as I would have liked. On top of that, the book I expected to finish this week has some very challenging themes and ideas that have forced me to stop and think every five or ten pages. I love to have my mind stretched and to see the world in new ways, but this one is REALLY pushing me and forcing me to spend some time in thought and consideration after each section.
All of that is preamble to say that this week's book is not the one I expected to be writing about today! Instead, it is a book that I've picked up a few times but have never finished. A book that helped to redefine an entire genre and introduce beautifully complex characters into what was often considered a "kids" genre of literature. I'm talking about Alan Moore's fantastic graphic novel, Watchmen.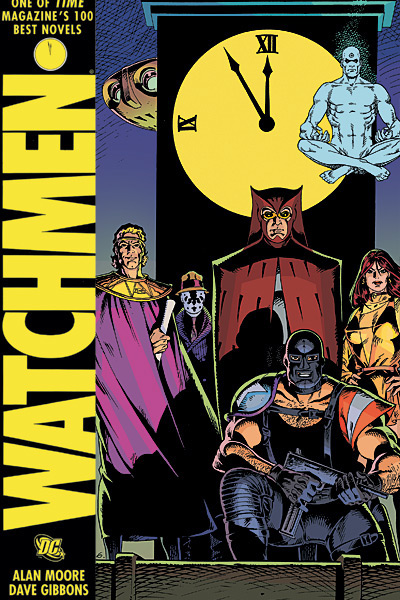 When I opened this the other night, it was with the understanding that I had tried and failed to read this a few other times, so I convinced myself that I would be finishing this, no matter what. To my surprise, not only did I finish it, but I finished it in one night! An engaging and compelling story that features flawed superheroes who spend far more time ruminating than they do actually saving the world, this is a fantastic read for people who are looking for more complexity than is sometimes found in other graphic novels of the era.
I was fascinated to find some parallels between some of the thoughts and ideas in Watchmen as the other book that I had hoped to finish this week. I haven't always been a fan of some of the recent reboots of superheroes, but because this group of heroes was new to me, I was surprisingly okay with the tone and style of the book. I'll also admit that having been an avid reader since I was young, the use of imagery and relative lack of internal dialogue took some getting used to. At the end of the day though, I really did enjoy it.
WAIT…I can hear the thoughts running through your head right now: "What on earth does this have to do with emergency and continuity management?"

It's as easy as this…everyone needs a break sometimes. I've spent this week up to my ears in complex ideas, dense legislation, and trying to figure out some other projects that I've got on the go. This challenge is meant to be enjoyable and enlightening, not a chore. My only hard criteria is that the books I read be something that is new to me, or so incredibly relevant that I would be remiss to not read them again and share my thoughts. At the end of the day, if it's not enjoyable, why would I do something like this?
A word about links and advertising: I use a couple of different monetization methods to help subsidize the work that I do. By clicking on (and maybe purchasing) one of the items I link to on Amazon, or by clicking on an ad, you help support accessible and low-cost emergency management work. If this site were to fund my monthly costs, I would be able to take on emergency management projects for charities and non-profits at little to no cost. So please, consider using my link(s) to purchase something I've written about.